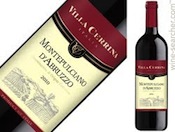 Hey, everybody! I found a really, really good cheap wine at Trader Joe's!
Right!
Mention "Really cheap wine" and "Trader Joe's" in the same breath, and most everyone will assume you're talking about "Two Buck Chuck."
Actually, I'm talking about the $4.99 Montepulciano d'Abruzzo that I mentioned
in a post the other night
.
In
this week's edition
of
The 30 Second Wine Advisor
, I ruminate briefly on that wine, Villa Cerrina 2012 Montepulciano d'Abruzzo, and, a bit, on Two Buck Chuck.
Read the full column here
.