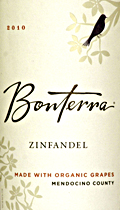 Bring out your Zins! This month we're aiming our
WineLovers Discussion Group's Wine Focus at Zinfandel
, America's grape with its roots in Italy, or so we thought, until Carole Meredith & Co. traced its roots to Croatia.
Accordingly, we'll open the topic to a world range of Zinfandel and its cousins, not only in California but in the other places around the world - particularly Western Australia - where it is grown; we'll check out Puglia's Primitivo (which, oddly, also is planted here and there in the New World); and, if you can find any, wines from Zin's progenitor grape, Croatian Crljenik Kasteljanski ("Kurl-YEN-ik Kahs-tel-YAN-ski").
I have to confess that I've been on a Zin diet for years, rarely tasting the stuff in the past decade, when - with Turley's 17-percent monsters as the poster children, but what I saw as a general rush toward massive fruit and high alcohol - I felt that Zin was leaving me. I'm willing to take this month, though, in an effort to rehab Zin in my mind's palate. Will I be happy?
Click to read this week's 30 Second Wine Advisor.
Click here to join the WineLovers' October Wine Focus on "Zinfandel and its cousins."