Grilled cheese! What better comfort food for blustery autumn days? For this week's
LouisvilleHotBytes review
in
The Voice-Tribune
, I check out the delicious variations on this traditional sandwich at two local spots: The new
Atlantic No. 5
(son of RYE) on West Main, and the newly launched weekend brunch at
Bourbons Bistro
.
VOICE-TRIBUNE Review by Robin Garr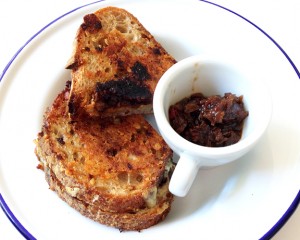 Ahh, it finally feels like autumn, and I'm thinking of comfort food. This nostalgic meme rarely attaches itself to the light, low-calorie and cooling dishes of summer. "Comfort" means stews and hearty soups, spaghetti and meatballs or maybe a thick pan of lasagna – the kinds of warming, stick-to-your-ribs dishes that Mom used to make, or at least you wish she had.

Nor need comfort food be complicated or hard to cook. Consider, if you will, the simple grilled cheese sandwich. Recently, in discovering one delightful new spot and one appetizing new weekend brunch at a familiar spot, I've encountered new takes on a grilled cheese capable of winning the people's ovation and fame forever.
The new is
Atlantic No. 5
, a spiffy breakfast-and-lunch eatery and coffee bar recently opened by the partners in NuLu's excellent Rye restaurant, located in a lovable old Corinthian-pillared storefront on Main across from the 21c hotel. The old – well, not that old – is Clifton's popular
Bourbons Bistro
, which this month began offering a tempting menu of brunch dishes from 10 a.m.-2 p.m. Saturdays and Sundays. Times when the eatery was previously dark.
Read my full review on LouisvilleHotBytes.com
, and check it out in
this week's Voice-Tribune
.