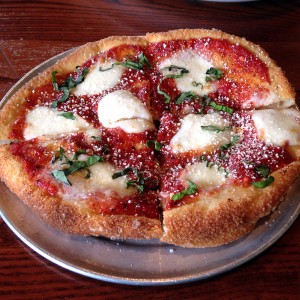 Fried pie might sound like just about the fattiest, most unhealthy (yet strangely seductive) thing that one could imagine, and the stakes go even higher when we start talking about fried
pizza
pie. But Louisville's Boombozz Pizza, locally for more than 15 years of thinking outside the pizza box, offers a crunchy, crispy, grease-free version that's mighty hard to resist.
Check out my review on
LouisvilleHotBytes.com
and
in this week's Voice-Tribune
.
Fried pie? Boombozz fried pizza wins our applause
VOICE-TRIBUNE Review by Robin Garr
When a kid, I looked forward to road trips as an occasion for fried pie, a rare culinary treat that seemed to exist only in those exotic places where people lived among cornfields and tobacco patches and spoke in a slow drawl.
Fried pie! We never had anything like that at home. It was a pie-crust turnover, loaded with fruit filling - apple was as popular as Mom or the Flag - folded over, sealed into a fat half-moon and deep-fried until it sizzled. Hot and crisp, juicy and sweet, it was just the right size for eating out of hand. Yum!
A single fried pie probably packed 1,000 calories, but at that age I didn't mind. Now I do, and I haven't indulged for years, maybe decades. The other day, though, I ran across an even more tempting take on fried pie that I just couldn't resist.
It's a fried
pizza
pie from Louisville's Boombozz ...
Read my full review
on LouisvilleHotBytes.com and
in the Voice-Tribune
.