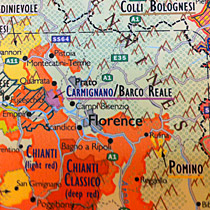 De Long Wine Map of Italy.
I'm enjoying a quiet day at home today, savoring memories of yesterday's feasting and sharing thanks and gratitude with friends. No mall for me! But I admit it ... I did go online and look for some good reading material about wine and other things.
Want to do some Black Friday work from home? My
30 Second Wine Advisor
column for this week features links to Steve and Deborah De Long's first-rate
Wine Map of Italy
, along with
their other display-quality wine maps
and their offbeat, intriguing
Wine Grape Varietal Table
.
You'll also find links to three serious recent books about Italian wine, and my tasting report on Bersano 2010 "Costalunga" Barbera d'Asti, in this week's
30 Second Wine Advisor
.
Quick link to buy De Long's Wine Map of Italy
for $29.95.