Not quite Chateauneuf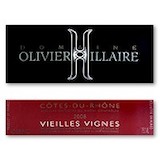 I don't want to over-state my irritation here: Domaine Olivier Hillaire makes a fine Châteauneuf-du-Pape
and
an excellent Côtes du Rhône, the subject of today's tasting inquiry.
But in an age marred by advertising excess and marketing hype, I feel a need to push back a bit when I read a back label brag that goes like this:
"
From vines located
just across the Rhône River
from Châteauneuf-du-Pape.
"
Uh huh. Back in my snarky youth, we used to have a saying, "'Close' only counts with horseshoes and H-bombs." Otherwise, as another old saying goes, a miss is as good as a mile. Generally, a miss literally
is
a mile when it comes to wine appellations.
To liken
Châteauneuf-du-Pape
, with its favored location and the characteristic large, oval "
pierres roulez
" ("rolled stones") that fill its vineyard soil and act as natural solar heat, to the simpler soils of the generic Côtes du Rhône n the other side of the broad Rhône would be something like claiming that my old apartment in Astoria, Queens was just like a
pied a terre
across the East River on Manhattan's wealthy Upper East Side.
The moral of this story is simple: Don't trust anything on a wine label that isn't required to be there by law or regulation, and it might not hurt to be skeptical even of that.
Read my full 30 Second Wine Advisor column for this week
, including my tasting report on Domaine Olivier Hillaire 2011 Côtes du Rhône Vielles Vignes, on WineLoversPage.com.