Gigondas: Sound your -s, and your GSM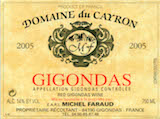 If you speak French like I speak French - mostly self-taught food, wine and tourist terms picked up along the way - you probably get as confused as I do about its unfamiliar ways. The gargled "r," that nasal "n," the
liaison
that runs words together when you least expect it; and all those consonants that get dropped off the end of words!
In Southern France, though, we get a break from some of those dropped consonants, which of course just makes things more confusing. Take today's featured wine, for instance: Gigondas. That's "Gee-gawn-dah," right? Drop the final consonant?
Nope!
Read more in this week's 30 Second Wine Advisor
, including my tasting report on Domaine du Cayron 2010 Gigondas.