NamNam's chicken soup for the soul
LEO's Eats with Robin Garr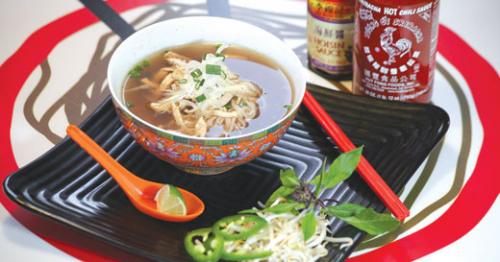 Phò gà chicken soup at NamNam Cafe.
LEO photo by Frankie Steele.
"Hack-hack! Ker-CHOO! Cough! Snort!"
Aw, kee-
rap
! Mary's got a cold, and it sounds like a monster. This can't be good. Not only do I wish no ill on my dear bride, but also let's face it: When Momma's not happy, ain't nobody happy.
What to do? What to do? I know! Chicken noodle soup! Now, Louisville is sadly limited in the kosher-style deli department, and it's a good 110 miles up I-65 to the nearest reasonable facsimile, Shapiro's Delicatessen in Indianapolis. There'll be no "Jewish penicillin" for her today.
What to do? What to do? Wait, I really do know! Vietnamese penicillin will do the trick, in the form of an oversize bowl of
phò gà
. Er, I mean Vietnamese chicken noodle soup, natch.
Yep,
phò gà
will get the job done, with its steaming aromatics to get the nose running, aromatic light star-anise-scented broth and tender noodles to console the aching spirit, and some onions, bean sprouts, jalapeños and a shot of fiery red "Rooster sauce" to snap you to attention.
A big bowl of chicken-noodle
phò
will set you back $8.50 at the inviting little NamNam Café in St. Matthews. Yeah, you can get a whole quart of Jewish chicken noodle at Shapiro's for $9. But figure the time and fuel spent for that four-hour round trip to Indy, and you've made the case for NamNam.
Read my full review
on LouisvilleHotBytes
, or click to it in
this week's LEO Weekly
.