Andalous takes us on a tasty trip to Morocco
LEO's Eats with Robin Garr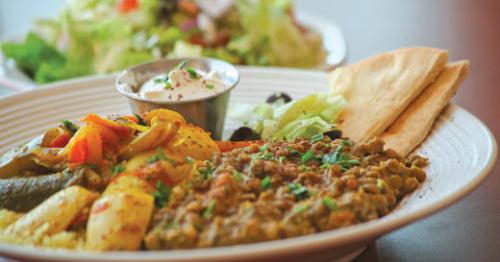 Lentil tagine at Andalous. LEO photo by Frankie Steele.
Quick! Where's Morocco? Can you point to it on a map? Tell us something about its history! What do you know about its culture and cuisine? 
Stumped? Sorry! But if you're not comfortable with these questions, don't feel too bad. You're hardly alone in the geographical illiteracy that researchers say afflicts a majority of Americans, particularly the younger set.
The 2006 Roper Public Affairs-National Geographic Literacy Study found that many Americans can't even locate New York or Iraq on a map. This may shed light on the Bush administration's fabled difficulty in locating Saddam's purported WMDs. It also suggests that a nation that has a hard time zeroing in on the Empire State probably ought to hire a tour guide before heading off to Morocco.
Still, although this California-size kingdom that wraps around Africa's northwestern shoulder may not be a top tourist destination spot for most of us, you'd probably heard of its colorful coastal ports, Tangier and Casablanca. Yes, Casablanca. I'd be shocked ... shocked ... if that doesn't ring a bell.
What's more, the CIA's World Factbook (one of the spy agency's rare public documents) wants us to know that Morocco is one of the world's largest producers of illicit hashish. They say this as if they think it's a bad thing.
But then there's Moroccan food ... that, for sure, is a very good thing. ... Now we're finally got a good chance to try it! Let's welcome Andalous, which succeeds the short-lived Mexico Viejo as latest tenant in a bright, freshly renovated building on Lower Brownsboro Road - the zone that local wits have lately dubbed "LowBrow").
Read my full review
on LouisvilleHotBytes
, or click to it in
this week's LEO Weekly
.