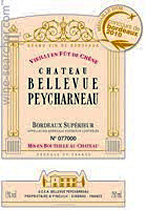 It has been 10 years since the movie "Sideways" made Merlot a laughingstock with the snobby character Miles's angry remark about "#$%&ing Merlot," a laugh line that actually drove down Merlot sales in the U.S. while starting a mini-boom for the Pinot Noir upon which the script lavished praise.
Of course, Merlot is what it is. Most wine geeks aren't going to have our tastes affected by a funny line in a movie; and that includes the screen writers and directors, who had the same character later going gaga over Chateau Cheval Blanc, a Right Bank Bordeaux that's predominantly Merlot and Cab Franc, another variety that he disdained.
So for this month's
Wine Focus in our online WineLovers Discussion Group
, we're seeking to give this much abused grape a second chance.
Read my full 30 Second Wine Advisor column
on WineLoversPage.com.