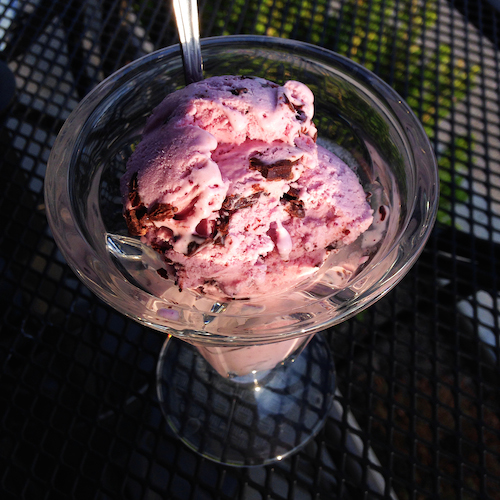 Black raspberry chip ice cream at the Comfy Cow.
Comfy Cow now a herd
Voice-Tribune review by Robin Garr
"I scream, you scream, we all scream for ice cream."
Once a popular ditty of the "Roaring Twenties," this folk wisdom has grown into a simple truth. Who doesn't like ice cream? As Mary's father used to say, even after an ample meal, "There is always room for ice cream."
And with Spring belatedly breaking after one of the most relentless Winters in recent memory, the signs of the season include, in addition to green buds, bright flowers and insane allergy-pollen levels, long lines of hungry supplicants forming around just about every ice-cream shop in town. Even the perennial ice cream trucks have brought their clangy rendition of "Camptown Races" back to the streets of our fair city.
I know that some folks nostalgically favor soft-serve ice cream at a half-dozen iconic old neighborhood ice cream spots around town. The Cincinnati ice cream empire and the ice-cream-and-pie folks also have fans.
But none of those options could fill the ice cream-shaped hole in my heart after Ehrmann's bakery closed years ago ... until Tim and Roy Koons-McGee brought us the Comfy Cow.
Read my full review
on LouisvilleHotBytes.com
and click to it in
this week's Voice-Tribune
.