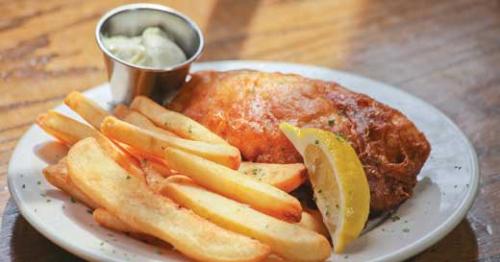 Fish and chips at the Irish Rover.
LEO photo by Frankie Steele
Irish Rover takes us to the Emerald Isle
LEO's Eats with Robin Garr
I'll never forget my first and only visit to Ireland. We spent a week or two driving around the country, learning wrong-side driving and stopping at every pub we could find to enjoy a pint of Guinness.
Damn, it was hard to find traditional Irish music, though. Pub after pub after pub, the food and the mood were Irish, but the music was international rock. When I finally found a crew with a harp singing "Danny Boy" in a tiny pub in Killarney, it was jammed with American tourists, of course.
You want Irish music? Check out Oxegen in Kildare County every July. It draws hordes of 100,000 or more, luring them in with performers like, um, Eminem, R.E.M. and Snoop Dogg. OK, let's face it: It's the same the whole world over.
Really, if it's Irish music and huge crowds you want, you might as well visit the Irish Rover on St. Patrick's Day. Personally, though, I think Yogi was right: "Nobody goes there anymore. It's too crowded."
But any other day of the year, if you want warm and welcoming Irish style in Louisville, you can't improve on the Irish Rover, the amiable eatery that has become an indelible part of the Frankfort Avenue landscape since 1993.
Read my full review
on LouisvilleHotBytes
, or click to it in
this week's LEO Weekly
.