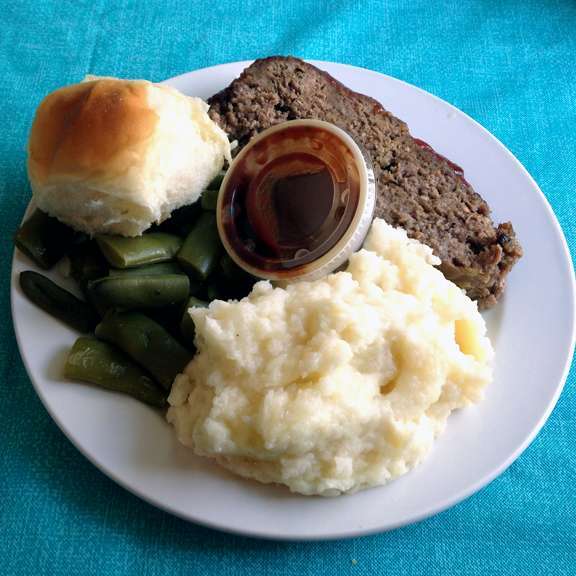 Meatloaf plate at Cottage Cafe in Middletown.
Voice-Tribune review by Robin Garr
Middletown's Main Street, a quaint strip of Victorian houses, steepled churches and storefront shops, served as the suburban community's main drag for many years as its commercial center and a slow-down, look-around opportunity for traffic on the old U.S. 60.
Then came the age of the suburb. Middletown got a four-lane "bypass" that sped traffic around the old town center and that quickly sprouted with shopping centers and strip malls, and Main Street settled into a quieter, gentler place.
It was a perfect setting for boutiques and consignment stores and lots of antique shops, and like nature abhorring a vacuum, in they came.
And as surely as night follows the day, the crowds of antiquers were followed by a squadron of luncheon spots and tearooms standing ready to serve them. Some might describe this sort of place as designed for "ladies who lunch," but to be honest, I have yet to dine at one without finding at least one other certified male on hand, apparently enjoying his meal as much as I do.
The neighborhood is just about awash with them, and many have stood the test of time. This time we dropped in on what may be the grandmama of them all, Cottage Cafe, located in a charming little yellow house – okay, cottage – at 11609 Main St., where the proprietors happily confided that they've been on the spot since 1977
Read my full review
on LouisvilleHotBytes.com
and click to it
in this week's Voice-Tribune
.