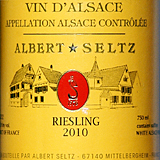 Okay, I'm busted. "Alsacity" isn't really a word. But I'm making one up now, because it seems only fair that "the character that sets apart many of the fascinatingly intense wines from Alsace" is so memorable that it deserves its own dictionary entry.
Riesling may be the dominant grape of Alsace, and it's a memorable variety indeed, widely considered one of the world's greatest white grapes. Gewurztraminer is also hailed as a characteristic Alsatian grape, but Pinot Blanc has its fans, and Alsatian Pinot Noir has grown from an offbeat experiment to a worthy (albeit often expensive) addition to the world's Pinot population.
What makes the wines of Alsace special?
It might be something about <i>terroir</i> at that. Certainly these wines often show the kind of intriguing "minerality" that brings complexity to a wine, and also offers wine "geeks" the opportunity to argue whether the actual minerals in the soil can be taken up and manifest themselves in the flavor of the wine, a notion that many declare impossible while others remain less sure.
For me, the hallmark of Alsace - circling back to the original premise of this essay - is a level of intensity that you don't find in wine every day, At its best, it's a memorable combination of intensity and balance, although some of the most highly rated (and expensive) Alsatians kick the intensity up several notches in a style that pleases some of the major critics but loses the critical balance that earns a wine's spot in the Hall of Fame for me.
Read my full 30 Second Wine Advisor column
on WineLoversPage.com, with this week's tasting report on two good Alsatian wines.