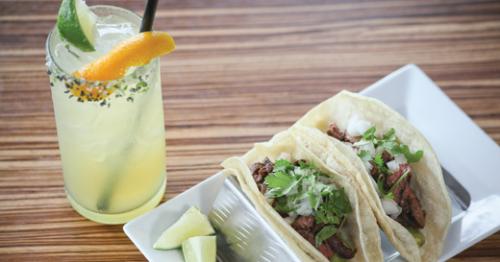 Tacos and a margarita at Wild Rita's.
LEO photo by Frankie Steele.
So, just how wild
are
the 'ritas at Wild Rita's?
Well, this new spot just east of downtown, within the noise penumbra and particulates shadow of the Great Bridge Boondoggle, offers 10, count 'em 10, variations on the margarita, not to mention tequila cocktails, tequila tastings and nearly 100 fine tequilas by the bottle or drink. It would take more effort than I'm willing to expend to answer this question definitively.
But I'm willing to bet that my pal the Bar Belle figured it out with her report on the eponymous signature cocktail, the Wild Rita. It's made with a blend of Maestro Dobel (a fancy clear blend of Reposado, Añejo and extra Añejo tequilas aged in oak) with orange-scented Grand Marnier liqueur, grain alcohol infused with lime, and sweet agave nectar. And then,
ay carumba
, they set it on fire!
We didn't succumb to its fiery delights, but did sample a decent if rather sweet straight-up casa (house) margarita ($7, but you can get it for $4 during Wild Rita's happy hours, which are 4-7 p.m. weekdays in the bar and lounge sections only).
You can also get a full liter of the Casa Rita - that's a quart plus, for the metric-impaired - for $18, but thank you, no, I'm still a little wary of tequila after that unfortunate youthful experience. (Don't we all have one of those hiding in our Scare Closets?)
Read my full review
on LouisvilleHotBytes
, or click to it
in this week's LEO Weekly
.